WhiteFire Scavenger Hunt Stop #3
Three Prize Packages!!!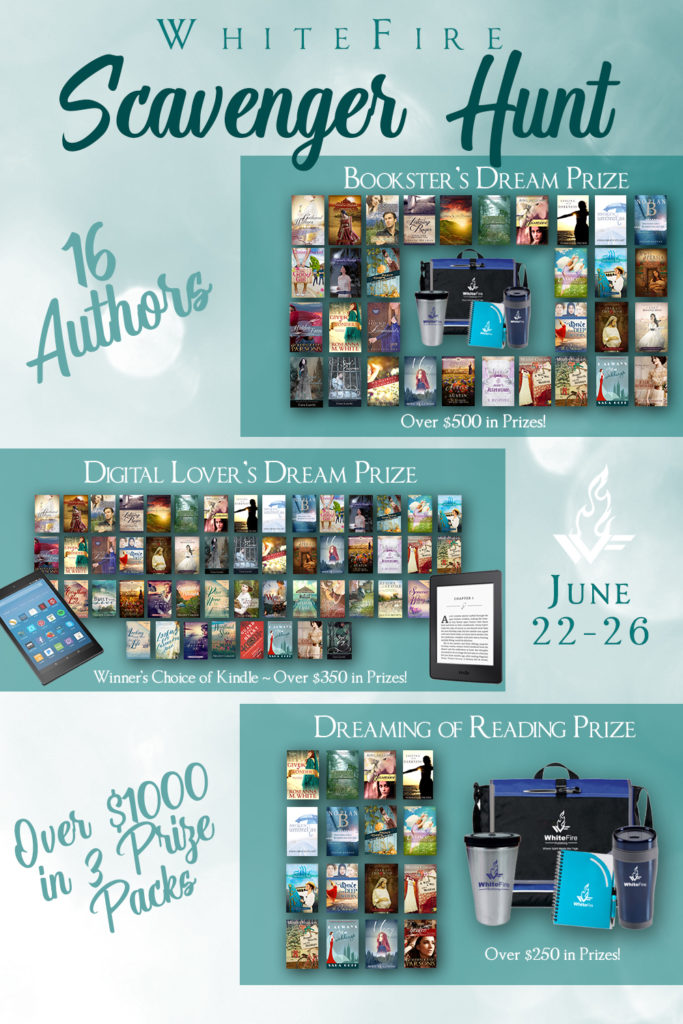 Welcome to the WhiteFire Publishing Scavenger Hunt!
If you've just discovered the hunt, be sure to go back to stop #1 and collect all the clues in order (scroll down for a full list). Once you have them all, you'll have uncovered a secret message. Turn that in at the final stop for a chance to win one of THREE amazing prize packages!
The Hunt begins at

Roseanna White's site

Take your time! You have all weekend to complete the Hunt—entries will be counted until Monday June 26—so have fun reading all the posts along the way and getting to know each author.

There are LOTS

of extra prizes! Many of the authors are featuring unique giveaways as well, for even more chances to win!

Submit your entry for the grand prizes back at

Roseanna White's blog

.
Writing About Art
After Soul Painter released, one of the most common questions I was asked was if I, too, was a painter.
You see, the main character, Miriam, is, and I suppose the descriptions of swirling blues and greens, silky brushes, and the dance of light off a stained glass windows made it seem like I had been the one to be there, to feel the magic that must run down the artist's hand and out the tip of their brush.
Alas, I lack that particular skill. Not that I don't play every now and then, but the simple truth is that words are my medium.
But something took place while I wrote about Miriam and her friends. By the end of the novel, I did feel like I had created a picture that was uniquely mine. And as I sketched out the final chapters, I realized that painting and writing and any of the other seemingly non-essential pieces of life all have that potential for magic. They all create a portrait of where we are and what is important at that point in time. Like Miriam with her paints, when you bake a pie with a crust that your family comes home for, when you crochet that blanket to celebrate a new life, when you take the time to dig in and ask questions of your depressed friend until he or she knows you care, you are engaging in the art of life. You are making an uncommon effort simply because it expresses everything that you are and what you find important.
While Miriam thought that her painting was the most valuable thing in her life, what she grew to learn is that her painting was just the medium for how she discovered what was truly important.
So, while you might not paint, today I encourage you to do whatever it is that declares what is truly important in your life.
But if you would like a go at painting, keep reading for my giveaway;)
Here's the Stop #3 Scoop:
You can order my book here.
The Clue to Write Down: of our
Link to Stop #4 is here, the next stop on the loop: http://www.christinelindsay.org/
Need the full list of stops?
Melody Carlson (hosted)
And now…My Giveaway!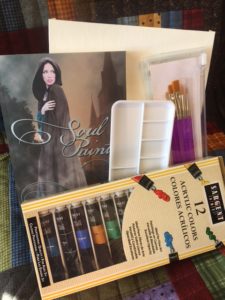 Win a signed copy of Soul Painter and an acrylic paint set.
How to enter:
2)  Subscribe to this blog (on the right side of this page).
Bonus Entry…Share this blog on facebook and tag me:)
Posted in:
Books
,
Craft
,
Education
,
Family
,
Giveaway
,
Scavenger hunt
,
Uncategorized
,
Writing
Tagged:
art
,
books
,
contest
,
education
,
fiction
,
giveaway
,
histoical
,
mystery
,
romance
,
scavenger hunt
,
series
,
Soul's Cry
,
suspense
,
Victorian
,
writing