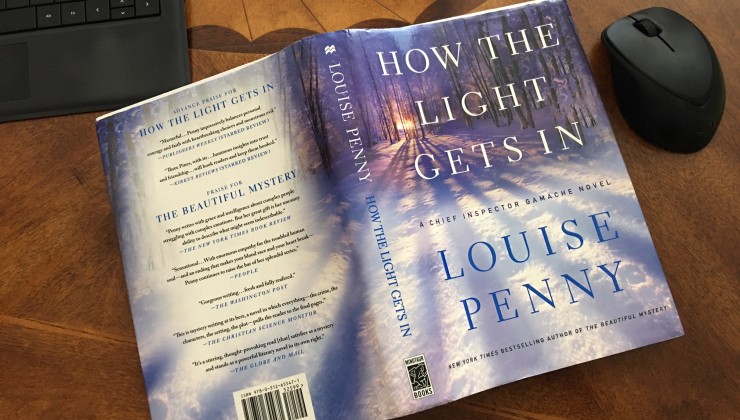 6 Must-Haves for a Great Series
I love to read. Everything. I read mystery, literary, historical, contemporary, sci-fi, biographies, academic…pretty much anything I can get my hands on.
And even though I am currently writing a series, I typically prefer not to read in a series because I like variety.  That's not to say that I don't go back to my favorite authors, because I do. I just tend not to read the books one after another.
This has recently changed for me. I've discovered Louise Penny. And in the last year and a half, I've finished six of her Chief Inspector Gamache novels.
Lately, as I've approached writing the third novel in my Portraits of Grace series, I've spent a significant amount of time thinking about what makes me go back to Penny's novels again and again, and I've come up with a list of six things that are must-haves for writing a series.
1)      I love the characters. I wish they were my friends. They are witty and real and funny, and multi-layered, with complex loves and hates. When I finish the book, I wonder what is happening to them.
2)      The setting is spectacular. If there was a house for sale in Three Pines, I'd be there in a heartbeat.
3)      There is a lack of judgement. In these novels, most of the characters would fall under a "liberal" point of view, and a few are "conservative," but overall, there is no preaching from the author. This might seem like a simple thing, but these books are set in modern times, and I challenge you to find another contemporary book where it doesn't feel like the author is trying to in some way sway their readers. It's hard to do. For Penny's novels, the characters are who they are, and it is that simple.
4)      She describes the most wonderful food. I want to sit in the B&B in Three Pines and have Gabri bring me a warm basket of freshly baked croissants. Actually, description in general is one of Penny's gifts. I must not be the only one who really appreciates the food, because there's a whole page of the series website devoted to recipes.
5)      The characters make me appreciate the value and pitfalls of all sorts of personality types.
6)      Each novel is different, but the same. They are all based on Chief Inspector Gamache, but there is a different murder that he tries to solve in each book. People die in different ways, so there are new inspectors and new experts. The trip to figure out what happened brings in new settings. The person who died brings in new characters with their families and friends. All-in-all, while the main characters grow in importance, the new ones bring variety and life to the series.
If you haven't picked up one of her novels in this series yet, I encourage you to do so. Order doesn't much matter. A warning for sensitive readers: they are murder mysteries, so there is some violence involved, and the language would not be considered appropriate or welcome for every reader—although I would not describe the profanity as gratuitous.
Have you read this Louise Penny's series? What did you like or dislike? If you are a writer, what have you learned?
As a side note, if you have Audibel, the narrator for these novels (Ralph Cosham) does a fabulous job:)